Open & Liberate
Open the heart chakra & liberate the spirit from blockages with a clean, refreshing, zesty aroma.
Awaken your daily intention and recharge your aura with Release Aroma Spray. 
Manifest each day with the purest of vibes and potent aromas. 
Natural & Organic Ingredients

Ingredients: Full-moon water; witch hazel; essential oil blend of may chang (like lemongrass, but way better), bergamot and cedarwood; quartz crystal chips & good vibes.
Use within one year of purchase.
A Burst of Natural Fragrance

Honor your spirit and your space with the power of nature-derived ingredients. 
Free from artificial fragrances & additives
Contains 2x the industry standard of essential oils in every bottle
Creates soothing, peaceful mood naturally

Convenient 2 oz size is perfect for on-the-go
How & Where to Use
Shake well before every use to disperse the oils into the water. Then, spray liberally on your skin and clothes, just like you would perfume.
Spray Anywhere - Spray on bed linens, curtains, and other fabrics in your home, workspace, vehicle or anywhere higher vibes are calling!
OUR QUALITY PROMISE
We promise our ingredients to be of the highest quality possible.
We also promise to continue to purchase from other conscious companies that choose people, plants and the planet over profit.
We would rather support companies who can't afford "organic" labeling, but operate their business organically, with integrity, over companies who don't.
We carefully select:
Organic whenever it makes sense. (roughly 90% of our ingredients are organic)
Carefully wild-crafted or farm-grown herbs from companies who support herb protecting initiatives.
GCMS-proven pure, unadulterated essential oils of the highest grade
Tallow rendered (in-house) from cattle cared for by a small family ranch who humanely raises them outdoors on an entirely grass fed diet, without the use of steroids, antibiotics or hormones. When ready, those cattle are taken in by the local, family butcher and prepared so as to make use out of every part of the animal with respect. Discover the benefits of tallow. 
If you are not 100% satisfied with your order, 
read our full money back guarantee policy
and
contact us
to initiate a refund.
MONEY BACK GUARANTEE
30 DAY MONEY-BACK GUARANTEE
We offer a full 30-Day Money Back Guarantee on any one item you are not 100% satisfied with. Simply contact us to let us know within 30 days of your order date and we will refund 100% of the purchase price including shipping.
All we ask is that you consider giving the product to someone who may like it. Only one return per person (or address) per lifetime on one single item. (You'd be surprised at the unscrupulous things people try to do.) 
Questions? Contact us. We'd be happy to help. 
Nefertem - The ORIGINAL Holistic Skincare Company
Why We Chose These Ingredients
Customer Reviews
12/25/2021
Connie C.

United States
Love it!
Smells wonderful, love every scent I have purchased.
09/03/2021
Denise T.

United States
I recommend this product
The best!
I found this sweet company a couple of years ago and have been re-ordering this product faithfully. The smell is amazing! My whole house simply feels uplifted. Everything this little company makes is done with love. Don't hesitate. Just order and I'm sure you will become a regular customer too! Oh and if you are ever able to meet the owners at a fair, they are delightful
06/04/2021
BECKY B.

United States
I recommend this product
Product proved itself!
I was a little hesitant at first to order this spray, because I didn't know what may chang smelled like. I'm so glad I ordered it! It's so lovely and citrusy! I like to spray it in the air just before a meeting when working from home to give myself a little mental boost. Very happy!
01/04/2021
Laura C.

United States
I recommend this product
RELEASE Aromatherapy Spray
I have been using Nefertem moisturizer for approximately two years and enjoy the aroma scent. This is why I decided to try the RELEASE aromatherapy spray. I spray it on my skin and clothes daily. It gives off a gentle scent and helps me feel calm throughout my day. I love it!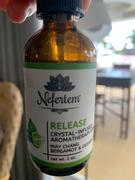 01/01/2021
Rebecca D.

United States
joy in a bottle
This is such a crowd-pleaser. Several family members have asked me for more after I gave them this as a gift. Uplifting and joyous, scent reminds me of lemon heads candy lol!