Tea Tree, Lavender & Clary Sage (also Tender Lovin' Care...get it...T.L.C.)
Ascend to the highest level of bathing bliss
Imagine stepping into the steamy shower, rinsing your cares away, enveloped by rich aromas of pure essential oils.
No one to bother you - just you and your bubbling bar of soap, relaxed in complete silence, enjoying the freedom of mental purity. This is self care at its finest!
Divine Aroma, Delightful Energy

Scent: An invigorating, camphor-like, medicinal, green, distinctly tea tree aroma with a subtle sage-y finish.  Enjoyed by men and women alike.
Energy: Carefully cultivated to purify your skin and spirits while awakening your body's ability to repair. Formulated to aide in rinsing away others' energetic footprints on your soul and leave you feeling like your old self again. 
Align with Pure Intentions
Infused with real, honest-to-goodness, pure intentions, our soaps offer more than your average bar.
They offer the opportunity to connect with your mind, body and spirit while merely engaged in your daily bathing routine. 
How to? Simply set your intention for the day, step into the shower, take a deep cleansing breath, lather every inch of your body, and allow the water to rinse away what doesn't align with your purpose.
Like Clean Eating For Your Skin

All our products are made with 100% natural ingredients - like real, pure natural ingredients - like, made from the Earth, unadulterated, extracted-in-their-original-form-the-way-our-ancestors-would-have, kind of natural. Why? Because impurity is simply not an option.
We promise to always use clean ingredients sourced from companies who value people and the planet over profit.
We are 100% natural, 90% organic, and 0% artificial.
No parabens, no preservatives, no junk. 
By Far, Better Than Bodywash
rich, luxurious lather
moisturizing, non-drying
long-lasting (we cure our soaps for 8 weeks - twice as long as the average)
versatile recipe - can be used on face, body, hair and for shaving
Ingredients: Full-moon infused purified water; grass-fed tallow; extra virgin olive oil*; unrefined coconut oil*; food-grade sodium hydroxide (a required catalyst to producing soap - not found in final product); castor oil*; unrefined shea butter*; essential oil blend of tea tree*, lavender*, and clary sage*; neem oil*; kaolin clay; spirulina*; activated charcoal*; and positive intention*. (* indicates certified organic ingredient)
Net Weight: approximately 3.50 oz (made by hand, expect slight variances)

6 Bars of Size: approximately 3" x 2" x 1" (1 bar lasts 1 week for some, 1 month for others)
Tallow #1 Best ingredient for soap
Tallow has been used for soapmaking for as long as soap itself has been made. Tallow imparts a long-lasting, firm quality to soap while offering incredible moisture and rich lather, even in hard water. 
Our Grass-Fed Tallow is proudly hand-rendered by us, triple-purified, and from organically-raised, grass-fed, grass-finished cows.
Raised on a family farm without the use of hormones, steroids or antibiotics, these cows are free to happily roam in the Colorado sunshine as cows should (not in tight, overcrowded pens). Learn more about tallow. 
The single best bar of soap you'll ever try or your money back!
OUR QUALITY PROMISE
We promise our ingredients to be of the highest quality possible.
We also promise to continue to purchase from other conscious companies that choose people, plants and the planet over profit.
We would rather support companies who can't afford "organic" labeling, but operate their business organically, with integrity, over companies who don't.
We carefully select:
Organic whenever it makes sense. (roughly 90% of our ingredients are organic)
Carefully wild-crafted or farm-grown herbs from companies who support herb protecting initiatives.
GCMS-proven pure, unadulterated essential oils of the highest grade
Tallow rendered (in-house) from cattle cared for by a small family ranch who humanely raises them outdoors on an entirely grass fed diet, without the use of steroids, antibiotics or hormones. When ready, those cattle are taken in by the local, family butcher and prepared so as to make use out of every part of the animal with respect. Discover the benefits of tallow. 
If you are not 100% satisfied with your order, 
read our full money back guarantee policy
and
contact us
to initiate a refund.
MONEY BACK GUARANTEE
30 DAY MONEY-BACK GUARANTEE
We offer a full 30-Day Money Back Guarantee on any item you are not 100% satisfied with. Simply contact us to let us know within 30 days of your order date and we will refund 100% of the purchase price including shipping. All we ask is that you consider giving the product to someone who may like it. Only one return per person per lifetime. 
Questions? Contact us. We'd be happy to help. 
Nefertem - The ORIGINAL Intention Skincare Company
Why We Chose These Ingredients
Customer Reviews
12/11/2021
Rebecca D.

United States
I recommend this product
The quality is amazing!
I bought this soap to help my skin during the winter season. It especially needs tlc right now to keep it strong and to lock in moisture. I love the quality ingredients, keeping in oils that balance out my skin and prevent dryness. Nefertem soaps are the best soaps for my skin, whether for hand washing or in the shower.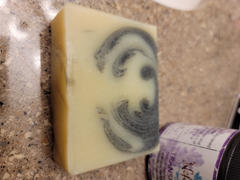 10/15/2021
Jacob M.

United States
I recommend this product
Soap package
The experience is always top notch with Nefertem products! Love the scent and quality of the soap. Will never use another product!
12/05/2019
Marlena B.

United States
I recommend this product
Such a lovely scent
This soap has such a lovely scent.