Encourage Balance + Restore Harmony

Enriched with patchouli, grapefruit + lavender.
An earthy, captivating, sweet/citrusy aroma. 
Whether you're looking to connect to the divine consciousness of your body, support balance between masculine and feminine energies, or restore harmony in the midst of chaos, this Intention Kit was formulated + blessed to support you. 
Strengthen your root chakra
Quiet the mind & activate sexuality

Cultivate balance between productivity and rest
YOUR NEW SACRED BATHING RITUAL 
Take your bathing routine from dull to divine with our signature Intention Kits. Consciously crafted, each intention kit includes 4 essential skincare products, plus 4 energetic bonus items. 
Enjoy the highest quality, non-toxic ingredients for an elevated skincare routine. 
100% NATURAL PRODUCTS IN THIS KIT:
One 1.5 oz Jar of ConScentual Moisturizer
One 2 oz Bottle of ConScentual Aroma Spray
One Bar of ConScentual Soap
Cotton, drawstring pouch (perfect for crystal or make-up storage)
PLUS - 4 FREE ENERGETIC BONUS GIFTS!

Aragonite Star Crystal
eBook

 

111 Mindful Living Tips - How to Live with Intention
Daily Affirmations Card
Blessing Sticker
HOW TO? 3 SIMPLE STEPS TO INTENTIONAL BATHING
Breathe. Hold your crystal. Focus your intention + willpower.
💧 1. LATHER
Natural Bar Soap
Cleanse body + spirit with a rich, aromatic soap. Versatile for face, body + hair. 
🧴  2. HYDRATE
Natural Moisturizer
Tenderly massage cream into arms, legs + soul.
✨  3. AWAKEN
Crystal-Infused Aroma Spray
Move intention into reality with a revitalizing spritz for your skin, clothes + home.  
DEEPER THAN SKIN
We believe skincare is more than what you put on your skin. Live + bathe consciously with products connected to every inch of your body + soul.
THINK NATURAL. THINK INTENTIONAL. THINK NEFERTEM.
OUR QUALITY PROMISE
We promise our ingredients to be of the highest quality possible.
We also promise to continue to purchase from other conscious companies that choose people, plants and the planet over profit.
We would rather support companies who can't afford "organic" labeling, but operate their business organically, with integrity, over companies who don't.
We carefully select:
Organic whenever it makes sense. (roughly 90% of our ingredients are organic)
Carefully wild-crafted or farm-grown herbs from companies who support herb protecting initiatives.
GCMS-proven pure, unadulterated essential oils of the highest grade
Tallow rendered (in-house) from cattle cared for by a small family ranch who humanely raises them outdoors on an entirely grass fed diet, without the use of steroids, antibiotics or hormones. When ready, those cattle are taken in by the local, family butcher and prepared so as to make use out of every part of the animal with respect. Discover the benefits of tallow. 
If you are not 100% satisfied with your order, 
read our full money back guarantee policy
and
contact us
to initiate a refund.
MONEY BACK GUARANTEE
30 DAY MONEY-BACK GUARANTEE
We offer a full 30-Day Money Back Guarantee on any one item you are not 100% satisfied with. Simply contact us to let us know within 30 days of your order date and we will refund 100% of the purchase price including shipping.
All we ask is that you consider giving the product to someone who may like it. Only one return per person (or address) per lifetime on one single item. (You'd be surprised at the unscrupulous things people try to do.) 
Questions? Contact us. We'd be happy to help. 
Nefertem - The ORIGINAL Holistic Skincare Company
Why We Chose These Ingredients
Customer Reviews
Love it ,First time I've ever won anything.
I love your products they are my scent.I recieve many compliments .
06/23/2022
Donnamaxon M.

United States
Love it ,First time I've ever won anything.
I love your products they are my scent.I recieve many compliments .
12/29/2021
Tai

United States
I recommend this product
AMAZING products
Package arrive immaculately. A lot of thought and care went into the presentation and impeccable natural ingredients went into these products. I received a lip balm, room spray and body bar soap and they all smell phenomenal. It also came with a clear quarts point crystal. I'm blown and away and truly sublimely happy. Customer service could not be any better. Thanks so much ♥️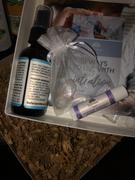 10/22/2021
Brigit H.

United States
I recommend this product
Intention kit
The intention kit is such a nice gift set to give to someone or keep for yourself. So many treasures
10/21/2021
Haley S.

United States
Love the quartz crystal!!!
If you know anything about crystals, then you will appreciate the quartz crystal point in this kit. Such a nice touch! Love the scent and the lotion has worked really well for me. I am very satisfied with my purchase.